Wedding personal beauty care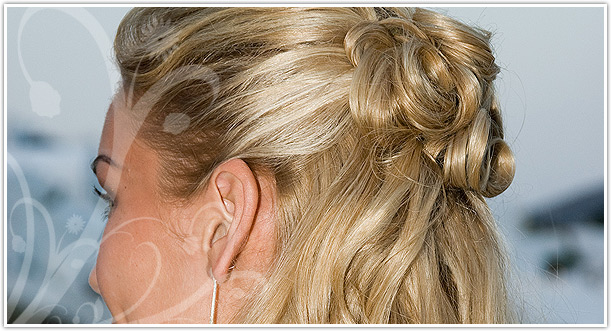 Every couple wants to have a special look on their special day, and particularly the wedding preparation has closely been connected with the brides. Therefore having your wedding organised by us means you will get all the beauty care you deserve . We are co operating for years now with a team of professional hairdressers and make up artists that gives us the chance to offer the bride all beauty care before the wedding in your hotel room and reasonably priced at the same time.
Hairstyling for the bride (and why not for the groom?)
Make up for the bride
Manicure and pedicure for the bride
Massage for the bride and the groom
We know that the above services are closely associated with the bride, but we believe the groom also needs and deserves some beauty care. The hairdressers and make up artists team we co operate with also excel in male beauty care.
Most probably some of your guest would also like to have their hair done. The sooner we get informed about the number of people wishing an appointment with a hairdresser or make up artist, the better we can arrange these appointments before the ceremony at your guests' rooms.
Another thing we have noticed all these years is that many couples prefer a more relaxed and informal ceremony, which makes bride-dress and tuxedo unnecessary. Nevertheless we advice even these couples to choose the hairdressing care in their wedding package. The reason is that from your wedding day, apart from the sweet memories, you will also keep forever the wedding photos- and for sure you want and deserve to look perfect on them, isn't it so?
We also know that some brides have a particular coiffure for their wedding ceremony on their mind that they have either seen in a bride's magazine or have simply dreamed off. We can make everything you want possible; inform us in advance about it and the hair type of yours or send us by mail the relevant photo. We can also arrange a meeting with the hairdresser the day before your wedding for making a kind of a "rehearsal" that will be the guarantee that your hair will look the way you have dreamed off!