Wedding flowers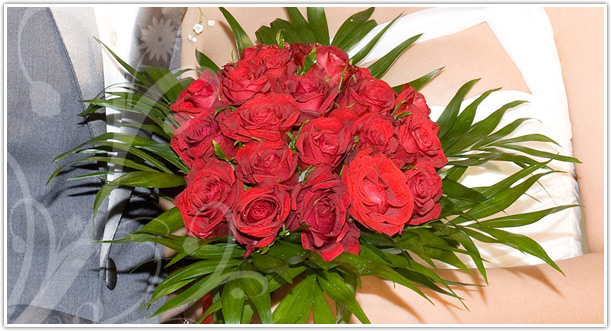 Roses, lilies, margaritas or orchids, simple and minimalist or luxuriant bouquets... flowers the symbols of joy cannot miss from your special day, your wedding day. They are undoubtedly closely connected with weddings, since they increase the romance of the wedding atmosphere and usually bridges love them.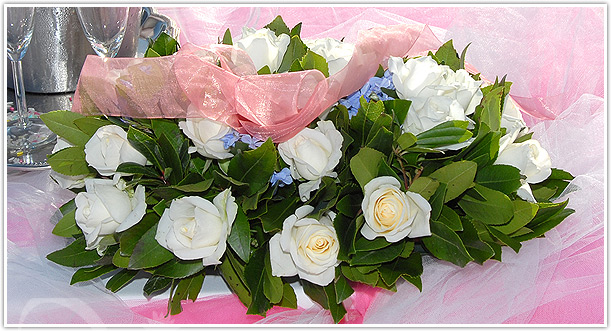 So, paying attention to detail, we can provide you with:
Floral arrangement decoration for ceremony table
Flower decoration of site - pedestal arrangements
Bridal bouquet and Groom boutonniere
Transport to and from the wedding location site with an air-conditioned car, decorated with flowers
...but we also need your advice. If you have a favourite flower that you wish to decorate your bridal bouquet or special design you maybe have seen in the internet or in a magazine, do not hesitate, inform us in advance about it , so that at the time of the ceremony you can have it!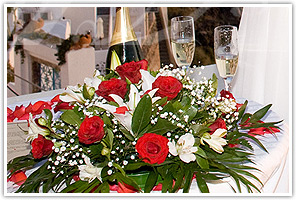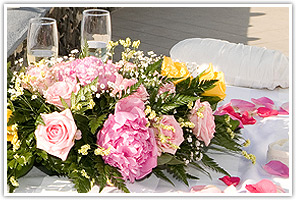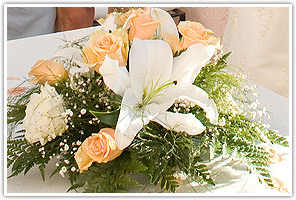 From our experience we have noticed that many couples have decided long before their arrival in Santorini, what they are going to wear on their special day. We urge you that if this is the case with you, to tell us the color of your bridal clothes, so that we order the creation of a matching bridal bouquet and groom boutonniere.
In case all these seem complicated to you, do not worry; upon your arrival in the beautiful Santorini , the wedding organiser of your wedding can accompany you to the flower shop, so that you either choose directly the flower decoration of your wedding or check if the already made order is the one you like the best.