Wedding music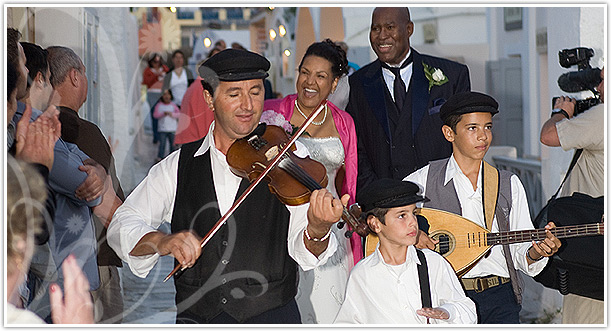 A wedding day is filled with moments that become memories. Wedding music gives those memories a melody to play in your heart forever.
This is why you should not forget music, whether or not you decide to have a reception.
Get inspirited of the traditional Greek wedding, and let the bride be accompanied to the wedding ceremony location or church by musicians.
As far as the wedding reception is concerned... music is a major issue.
We can book a DJ for you or traditional Greek music players, which will add to your wedding party a special spirit. All of you more or less would like as soon as you arrive in Greece to try dancing the Greek way. What we usually recommend to the couples facing the dilemma DJ or Greek music is to have them both in their wedding party.
We can even guarantee that you and your guest will have 100% fun!