Legal documentation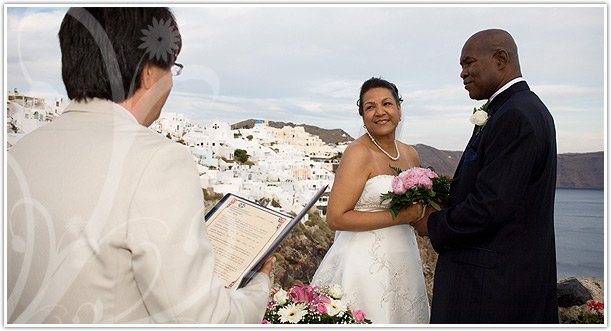 Many couples consider that a wedding abroad is complicated, due to the documentation needed for the performance of the wedding and the acts required to be done after the ceremony, for the wedding's legalization.
This is all far away from the reality, because with us you will never walk alone.
We inform you, first of all, about all the papers required for a couple to get married in Greece . We also indicate you from which office you should get them, according to the country you stay in. During our correspondence we can answer to all your questions and assist you in any way possible.
As soon as you arrive in Santorini, our wedding co coordinator Dr Giannis Balourdos and his professional team, will pick you up from the air port or the island's port, explain you once again -in personal this time- about the whole program of the following days and of course be at your disposal for any last minute questions you may have.
The reservation of the wedding date and time are issues you will not have to worry about, since we will have arranged everything before our arrival.
In case you have decided that your wedding is only for you and your soul mate (and you have not invited any relatives of friends), you do not even have to worry about the witnesses needed. Our wedding organisers will be glad to be your witnesses!
The day after your marriage in Santorini you have to register your wedding at the local registrar's office.
From our experience we know that there are couples that perform their wedding on Friday or Saturday and they do not have the time to register it, since they leave before Monday (the register office is open only from Monday to Friday).
Do you think this may create a problem?
Well, if you have chosen us, problems have no place in your wedding programme.
In this case, we would have already contacted a notary office, where the couple will authorize one of our organisers to register their wedding at the local registrar office on the following working day. The documentation will be then sent to your place.
Talking about documentation, we consider necessary to mention that our cooperation does not stop the day of your marriage; often couples contact us weeks or even months after their wedding, asking us to send them some documents or even for another copy of the cd with their wedding photos.
Since the service we offer is personal, since we love Santorini and we want to carry back home the best memories from this island, and since we love what we are doing, we will always be at your disposal, even after the wedding. If you honour us by choosing our team for the organization of your wedding in Santorini, you will find all these out yourselves.