Why choose the island of Santorini for your destination wedding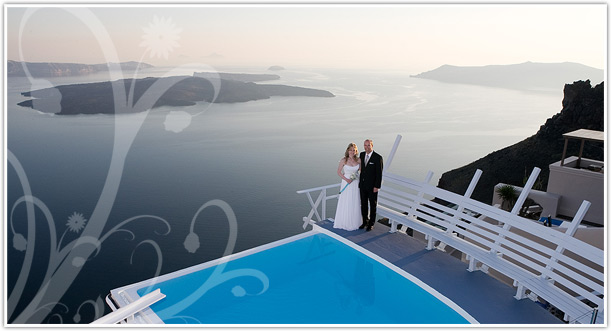 Why to choose the island of Santorini for your destination wedding?
As you embark on your new life together, naturally you want your wedding to be beautiful, romantic and memorable. Location is one of the most important decisions you'll make regarding this momentous occasion. Couples who are truly seeking an extraordinary experience may opt for a magical wedding in a unique destination.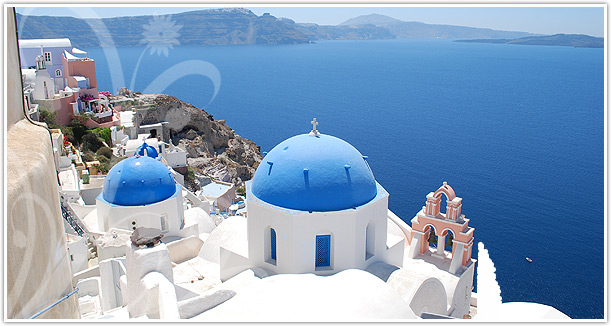 Santorini
Exotic, ancient, atmospheric: sugar-cube villages, sandy beaches, domed monasteries, classical sites, the sparkling sapphire Aegean Sea, an active volcano, the world's largest caldera and a sunset once you see you'll never forget.
In 2005 the island of Santorini was in the TOP 10 of "Ask Men" Wedding Destinations.
In 2002 the island of Santorini was characterized by the German magazine "Gala" as the "celebrity hideaway" destination.
Santorini is hailed as the most beautiful island of the Aegean and one of the most gorgeous spots on the planet. Unique on every way: awesome landscape, cosmopolitan atmosphere, fascinating history, high quality services and idiosyncrasies in its everyday existence-quirks of custom or experience that you can only enjoy if you know the secrets of its lifestyle.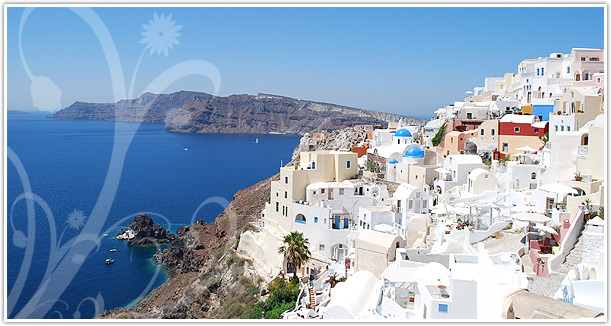 The moment you reach the island of Santorini you feel as if the power of the volcano has touched everything with a unique aura. Every corner of the Santorini has its own history and mystery and the whole island breathes a romantic atmosphere, that you cannot find somewhere else.
The caldera's sublime beauty has moved poets like Nobel Literature Winner Odysseas Elytis to compose odes of exaltation and transported more prosaic admirers to hyperbole and tears.
Read his poem written for Santorini:
Out of the bowels of the thunder you came
Shuddering with the irresolut clouds
Stone of bitterness, tempered, arrogant
Where hope is carved out of the deep secrets of your heart
With fire, with lava, with smoke
With words that illumine the infinite
You brought Forth the voice of the day
You felt the joy of creation
You surged into the world, firstborn
Born into the purple, risen majestic form of foam.
Odysseas Elytis
Winner of Nobel of Literature, 1979
For more photos of Santorini Island, visit our Santorini photo gallery.