Yiannis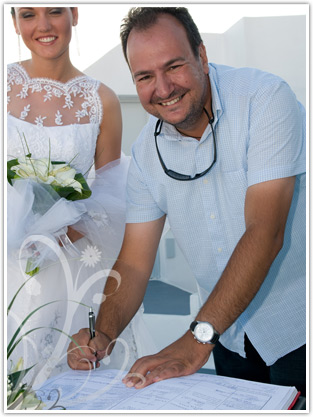 My name is Yiannis and I am the Wedding Coordinator of Travel Zone.
It was back in 2000 when I decided to leave Athens and begin a new life and career on the island of Santorini. Although I was already in the travel industry of Athens for 6 years, nothing could make me stay in the noisy capital any longer. I quit my job, moved to Santorini and started all over again on the most beautiful place on earth!
Eight years have passed since then and I feel more than happy for having moved to Santorini. Since I moved my family and especially my brother kept visiting me and as he was charmed by Santorini he was easily persuaded to get married on the island after he was encouraged by my sister, who is a designer, and myself. We picked a small, whitewashed church in Imerovigli for the ceremony and that's when it all started!
My sister was the one designing everything for the ceremony and the reception, and I was the one besieged with questions! The couple was very anxious about the accommodation the transfers and especially the service for the guests so they could use all the help. The result after 227 questions to which I have given 226 answers (yes, I answered everything regarding the church, the hotels, the florist, the hairdresser, the musicians, the transfers, the menu, the cake, the car rentals, the excursions, the weather even about the proper shoes that guests should wear, but I admit I could not give an answer to the question "did we turn the heater off before we leave?") was a very successful and beautiful Greek wedding that all the guests and (thank God) the couple really enjoyed.
The very next day, relaxed from the wedding stress everybody or almost everybody (unfortunately the tall, blonde, beautiful lady did not come...) visited us to congratulate my sister and me for the well organized wedding. To tell you the truth, that was the best gift for us and the beginning of our new department in our office! Before we even had the time to realize it a couple came after two weeks and asked us for advice, and then another one, and they just kept coming. Now, after having organized dozens of weddings in Santorini our team has expanded and has become even better! We owe our secret to that very first experience, the wedding of my brother, and we offer the same love and care to all the couples that trust us for their special day as if they were our relatives. The most important thing that you should know about our team is that we will try to help you as if you were a part of our family and that, for sure, your wedding is not just another job for us.
We are looking forward to welcoming you in Santorini…
Yiannis