Alexandra & Sergey wedding at Sphinx
July 30th, 2009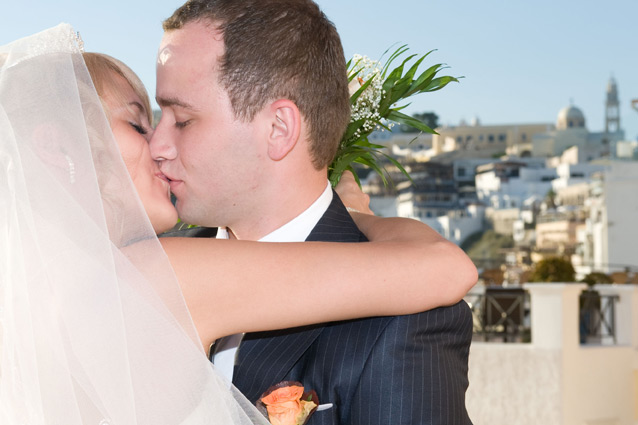 Alexandra and Sergey came all the way from Russia to get married in Santorini.

Alexandra looked like a little princess in her wedding dress wearing her silver tiara.

Both Sergey and Alexandra looked very happy and they were smiling all the time.
It would be difficult not to like people like those two...
Their wedding took place at the Sphinx.

After the ceremony they stayed at the Sphinx to have dinner.
Before dinner they spent quite some time with the photographer taking beautiful pictures around Fira.

The bride and groom couldn't take their eyes off each other! So in love...

The ceremony was performed by Mr. John Kavallaris.

Sergey and Alexandra exchanged vows in Russian.

The hairdresser was early enough at the hotel to help Alexandra become even more beautiful than she is.

The bride did her own make-up.

The decorations and flowers were all in orange and white.

The couple didn't want a sunset wedding so the ceremony took place quite early.

They really enjoyed posing for the photos and this is probably why all their pictures look beautiful.

Sergey and Alexandra combined their wedding to their honeymoon. They spent quite a few days in Santorini.

The couple was exchanging kisses all the time...
Congratulations Alexandra and Sergey!