Civil Wedding Documentation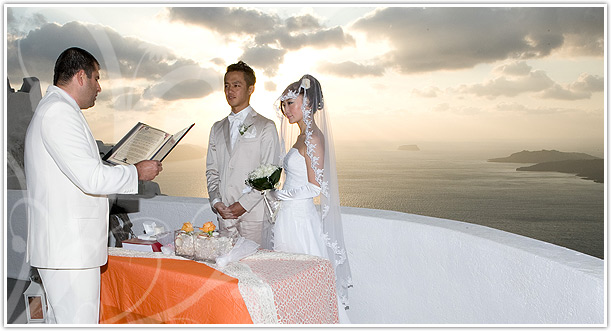 With the below stated documentation your wedding in Santorini will be recognized internationally.
Brides' and grooms' passports and photocopies of them (No translation necessary)
Birth Certificates - Both to be authenticated and translated into Greek (obligatory with Apostille Stamp)
No Impediment Letter or "Single Status" Letter accompanied by the authenticated translation in Greek. The "Single Status" letter is a document issued from your country's consulate or embassy and it ensures that you are single and that you are "allowed" to get married (obligatory with Apostille Stamp).
Divorce Certificate, that is, if you were married again before. No translation is necessary for this.
Apostille Seal (needed for specific countries only). Apostille is a special seal, which is applied by legal authorities in order to certify that a document is a valid and true copy of the original. You can get it from your ministry of foreign affairs.
Death Certificate in case one of the parties has changed his/her name by Deed Poll, evidence in written form must be obtained.
Adoption Certificate in case any of the parties has been adopted, it is obligatory to submit this document too.
Deed Poll Certificate if any of the parties has changed his/her name by Deed Poll, written proof must be obtained.
All documents require to be translated ONLY by Greek authorities, such as a Greek Consulate or Embassy (in your city or country) or by a licensed translator suggested by the Greek embassy or consulate that is closer to your place of residence.
Find a list of Greek Consulates and Embassies in your country by clicking here.
Special Notes
Americans should also ask for a wedding license from their own town hall!!! If you are coming by Athens first, you can get a no impediment letter from the American embassy of Athens that could substitute this wedding license.
Russians should also get a No Impediment Letter from the Russian embassy of Athens!!! If you are not coming to Athens first we can get this document on your behalf with an extra charge.
Important notes
The Greek Authorities require that ALL Documents requested above (except the divorce decree, death and adoption certificates) must be issued NO more than 3 months prior to the wedding date or else they will not be valid.
All authenticated translated documents have to be faxed or e-mailed to us (after being scanned) at least 30 days prior the wedding in order to make sure that nothing is missing and that everything will be accepted by the municipality of Santorini for the wedding. (You first get all the documents, then the apostile stamps and in the end the translation to Greek).
Fax Number: +30 210 9484385
E-mail: use our contact form
Please bring all your original documents with you to Greece.
The very first working day after your ceremony you will have to go to the town hall with our representative/wedding coordinator to sign some documents and register the wedding at the registry. About a month after the registration you will receive an official document in Greek stating that you are legally married.
Always remember that if you come in Santorini you should be done with the paperwork, otherwise you will have a problem getting your marriage license.
APOSTILLE STAMPS AND TRANSLATIONS ARE ABSOLUTELY NECESSARY FOR LEGAL CIVIL WEDDINGS! WITHOUT THOSE YOUR MARRIAGE MAY NOT TAKE PLACE!!! YOU FIRST GET THE APOSTILLE STAMPS FOR ALL THE DOCUMENTS AND THE TRANSLATIONS IN THE END! A STAMP FROM THE EMBASSY OR CONSULATE IS NECESSARY AS A FINAL STEP FOR CERTIFICATION.
ALL THE DOCUMENTS MENTIONED ABOVE WILL NOT BE GIVEN BACK TO YOU, BY GREEK LAW THE MUNICIPALITY IS OBLIGED TO KEEP THEM IN THE TOWN HALL.