Greek Orthodox Wedding Documentation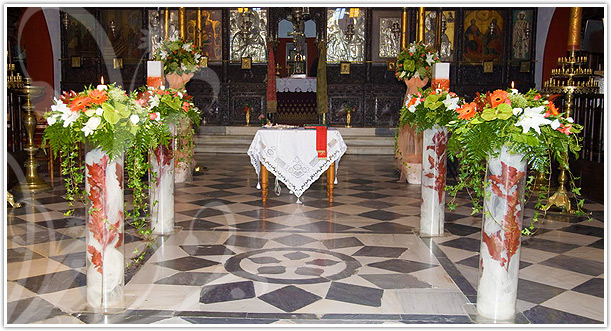 With the below stated documentation your wedding in Santorini will be internationally recognized.
Birth Certificates - Both to be authenticated and translated into Greek (obligatory with Apostille Stamp)
Baptismal Certificates for bride and groom
Letter of Celibacy, a certificate provided by the Greek Orthodox Church giving you consent and freedom to get married
Divorce certificate/decree if any. Certificate to be obtained from the judge AND from the Church if you had a previous Greek Orthodox wedding. The divorce decree requires translation in Greek. Translation in Greek is only required for the page(s) that carry the court's decision and not for the whole divorce settlement.
Single status letter/Letter of No Impediment (from your local registrar's office/town hall) for both bride and groom or marriage license. This needs to be translated.
Foreigners who live in Greece will have to have their visa with them.
If one of you is Catholic you will both have to sign a specific document in a notary office stating that your children will be baptized Greek Orthodox (Certificate of Faith). This document must be translated in Greek and if you have a problem getting it ready in your country we can take care of it here in Santorini upon your arrival for an extra cost (please ask).
All the documents need to be translated ONLY by Greek authorities, such as a Greek Consulate or Embassy (in your city or country).
As soon as you gather all the necessary documents you have to get apostille stamps on them (Hague's validity stamp) and then get them translated. As soon as the translations are over you have to have all the documents stamped by the Greek consulate or embassy.
When all the documents are ready you have to send them to us by courier to show them to the priest before you come in order to get the approval that everything is alright and that nothing is missing. After we get the approval everything is set but you have to be in Santorini at least 3 working days before the wedding because the Mitropolis where the original documents have to be submitted is only in operation for specific hours of the day and NOT on days of celebrations (even small celebrations). A meeting of yours with the priest before the submission of the documents to the metropolis is absolutely necessary and no one can replace you that's why you have to be in Santorini early to make sure everything is in time.
Important notes
The Greek Authorities require that ALL Documents requested above (except the divorce decree, death and adoption certificates) must be issued NO more than 3 months prior to the wedding date or else they will not be valid.
All authenticated translated documents have to be faxed or e-mailed to us (after being scanned) at least 30 days prior the wedding in order to make sure that nothing is missing and that everything will be accepted by the municipality of Santorini for the wedding. (You first get all the documents, then the apostile stamps and in the end the translation to Greek).
Fax Number: +30 210 9484185
E-mail: use our contact form
Please bring all your original documents with you to Greece.
The very first working day after your ceremony you will have to go to the town hall with our representative/wedding coordinator to sign some documents and register the wedding at the registry. About a month after the registration you will receive an official document in Greek stating that you are legally married.
Find a list of Greek Consulates and Embassies in your country by clicking here.
APOSTILLE STAMPS AND TRANSLATIONS ARE ABSOLUTELY NECESSARY FOR WEDDINGS IN GREECE! WITHOUT THOSE YOUR MARRIAGE WILL NOT TAKE PLACE!!! YOU FIRST GET THE APOSTILLE STAMPS FOR ALL THE DOCUMENTS AND THE TRANSLATIONS IN THE END! A STAMP FROM THE EMBASSY OR CONSULATE IS NECESSARY AS A FINAL STEP FOR CERTIFICATION.
ALL THE DOCUMENTS MENTIONED ABOVE WILL NOT BE GIVEN BACK TO YOU.